Case Study
Interview with Mr. Sumit Kedia, Member of the TVET Public Private Partnership (PPP) Working Group.
The interview has been condensed for clarity.
Mr. Sumit Kedia is one of the new members of the TVET PPP Working Group (PPP WG), a group where representatives from government and employers/private sector meet on an even footing to discuss all matters related to TVET and finding ways to increase employer engagement in TVET. Mr. Sumit recently attended its sixth meeting. An entrepreneur; owner of Sitaram Gokul Milks Pvt. Ltd of the Kedia Group of Industries and also the vice-chairperson, Agriculture Commodity Council (2017-2020), Federation of Nepalese Chambers of Commerce and Industry (FNCCI), Mr. Sumit has long recognised the need to improve Technical Education and Vocational Training (TVET) for potential employees, having taken over as chief executive of his family dairy company 13 years ago.
"When I joined the dairy industry, lack of skilled workers made me realise that the TVET sector requires more focus. So, I was very happy when I was nominated to be a member of the Working Group. I am thrilled to contribute my knowledge to this group."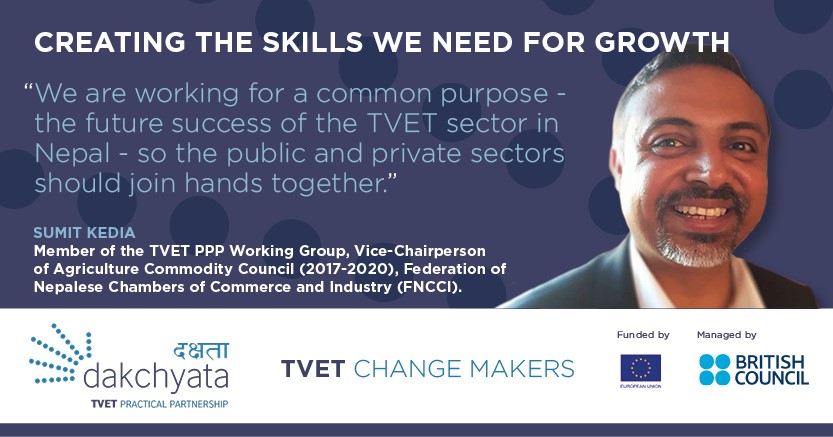 While there is lots to be done, Mr. Sumit sees the potential for the TVET PPP WG to improve TVET in Nepal over the next five years. Increasing and improving communication is key from all sides, including employers, he says. "There is currently not sufficient interaction or collaboration between the private sector and training providers. Platforms like the PPP WG can be effectively utilised to overcome such gaps."
He recognises that the private sector with its many industries and sub-sectors appears to be fragmented. To enable it to speak more with one voice, Mr. Sumit suggests working with existing networks and bodies, such as FNCCI, a key industry umbrella body, which has presence around the country.
Mr. Sumit agrees that the employers' groups could play a greater role in understanding and interpreting labour market trends in Nepal and providing evidence and research with which to influence policy and government. "We have been doing some of these things, but more expert guidance is required so that such projects can be identified."
Mr. Sumit was invited onto the PPP Working group in his professional capacity as vice-chairperson, Agriculture Commodity Association of the FNCCI and a former president of the Nepal Dairy Association. He represents the Agriculture sector, one of the three key sectors on which the EU-funded Dakchyata programme, managed by the British Council, is focused in its drive to support improved TVET policy and implementation in Nepal.
Mr. Sumit faces a lack of practical and technical skills in his own dairy workforce. He hopes that the PPP Working Group will help to address such issues by bringing partners together and improve cross sector co-operation. The Working Group has a bold aim. As he says: "We are working for a common purpose – the future of the TVET sector in Nepal - so the public and the private sectors should join hands together."
Acknowledging the positive efforts made so far by the Government in TVET, Mr. Sumit identifies curriculum as one of the most important priorities for change, alongside breaking down the barriers between sectors. He says: "Currently in our sector, we have a lot of unskilled, semi-skilled and skilled workers. Lots of training providers send us trainees for three months of on - the - job training (OJT). We are more than happy to receive them, and we employ many in the industry after their OJT. However, when they arrive, their skills do not match what our company needs." He adds: "The current TVET curriculum is not fit for the industrial and service sectors. There also is a mismatch between the theoretical and the practical approach. It should be a job-oriented curriculum."
A key output for the PPP Working Group will be a Policy Guiding Document. Mr. Sumit urges this document to focus on policy issues of demand and supply. "As an entrepreneur, I feel that the goal of the guiding document should be to address and overcome the mismatch between demand and supply. We have been looking for workers and we don't find workers, or if we find workers, we are not getting skilled workers as our industry demands."
Creating ownership of the guiding document amongst the government and the wider TVET sector is essential, Mr. Sumit believes. He says: "When the Working Group presents the draft policy to the government, it should be well informed to acknowledge and take ownership of the draft."
He is concerned, however, that this ownership and consensus may be hard to achieve. He recommends engaging as many relevant organisations and individuals in shaping the document to increase the likelihood of its success.  Mr. Sumit says: "A draft when completed should have incorporated all voices for its ownership."
He states that the Working Group must devise a way to include wider viewpoints beyond just its members. For this, Mr. Sumit suggests use of employer bodies, representations and chambers everywhere.
Finally, Mr. Sumit is optimistic, that with the collective effort of the diverse PPP Working Group members, long-term positive change in TVET can be achieved:
"We need to be determined to do something for the country and to deliver the result at any cost."
"This is the first project which is engaging employers to produce a policy guiding document on public private partnership in TVET. Currently, it is engaging the right kind of government and private sector representatives and provides an effective platform for dialogue between public and private sector. Provided it achieves what it has set out to do through the PPP working group, it will bring sustainable changes in the TVET sector. I am very hopeful about that."
Disclaimer: Views expressed herein are the sole responsibility of the interviewee and do not necessarily reflect the views of the Dakchyata/British Council or European Union