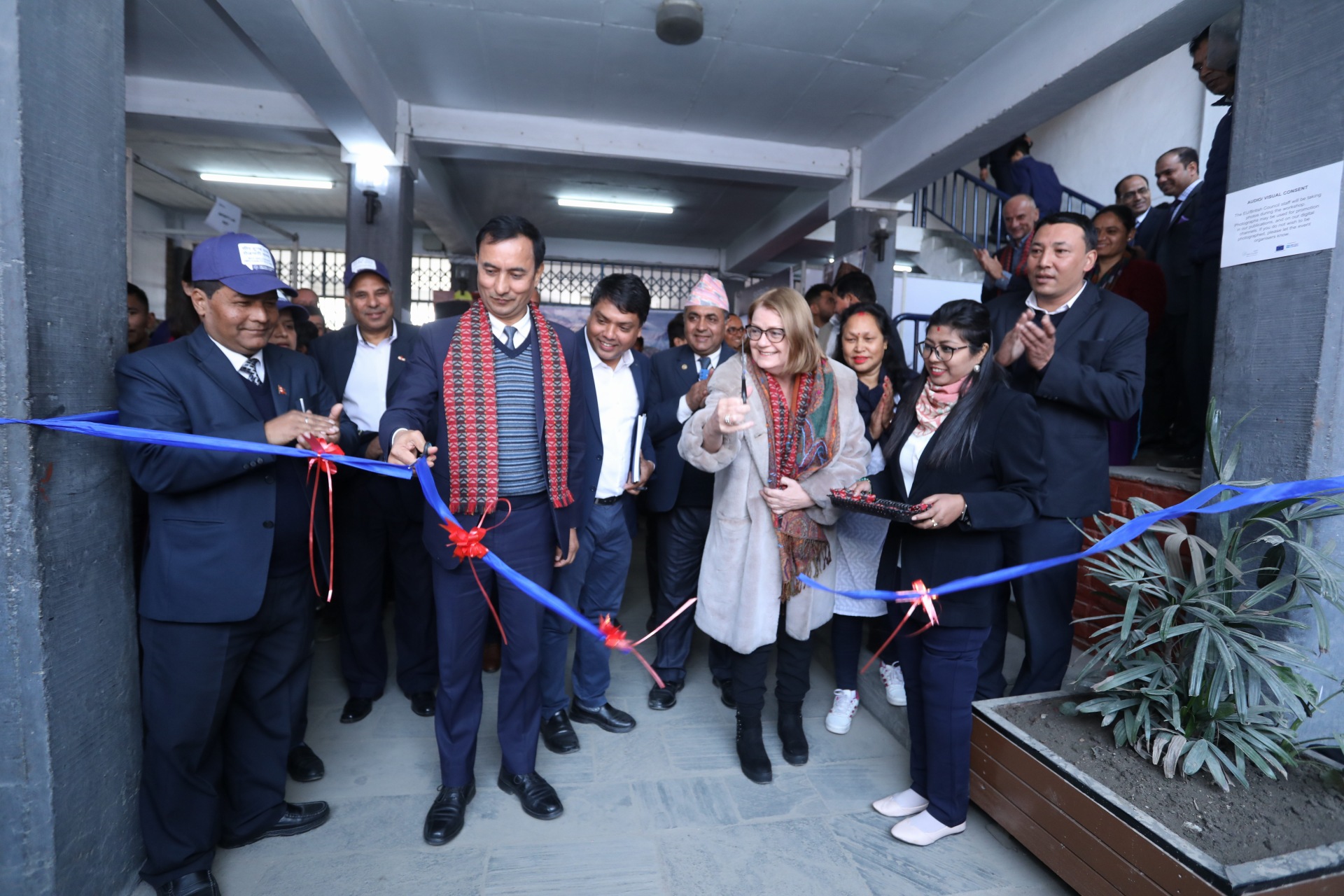 TVET Public Information Campaign "With Skills in Hand, Employability is a Chance" was successfully launched with a national inauguration event on 5 February at Balaju School of Engineering and Technology (BSET), Balaju Industrial District, Kathmandu. The National event was jointly inaugurated by Dr. Pushpa Raman Wagle, Member Secretary, CTEVT and H.E Veronica Cody, Ambassador, European Delegation to Nepal.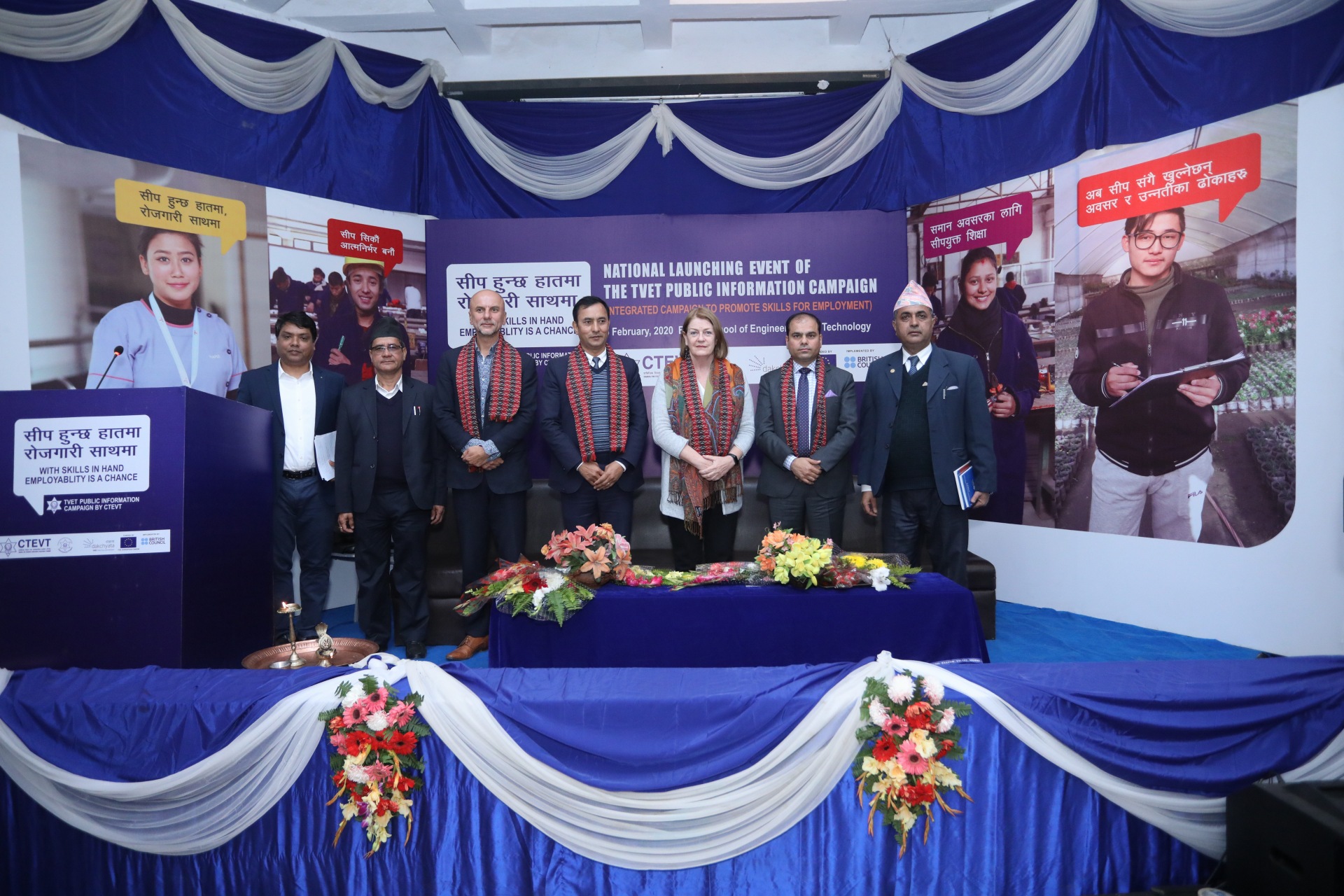 Other speakers and delegates at the inauguration event were Mr. Bharat Raj Acharya, Executive Committee Member, FNCCI and Dr. Jovan Illic, Country Director, British Council Nepal. The event also showcased Public Information Campaign documentary and distributed campaign information brochure alongside other leaflets highlighting information on TVET opportunities and institutions.
Together with the formal inauguration, launch was able to successfully showcase skills demonstration and keep the visitors engaged with information sharing and vibrant with skills competition. Altogether 1,775 visitors attended the two part event - formal and TVET Mela (Fair) which included secondary schools' students, employers, students from Balaju technical school, faculties, invitees, media and exhibitors among others. Out of 851 secondary school students who were the main target groups, there were 448 male students and 403 female students.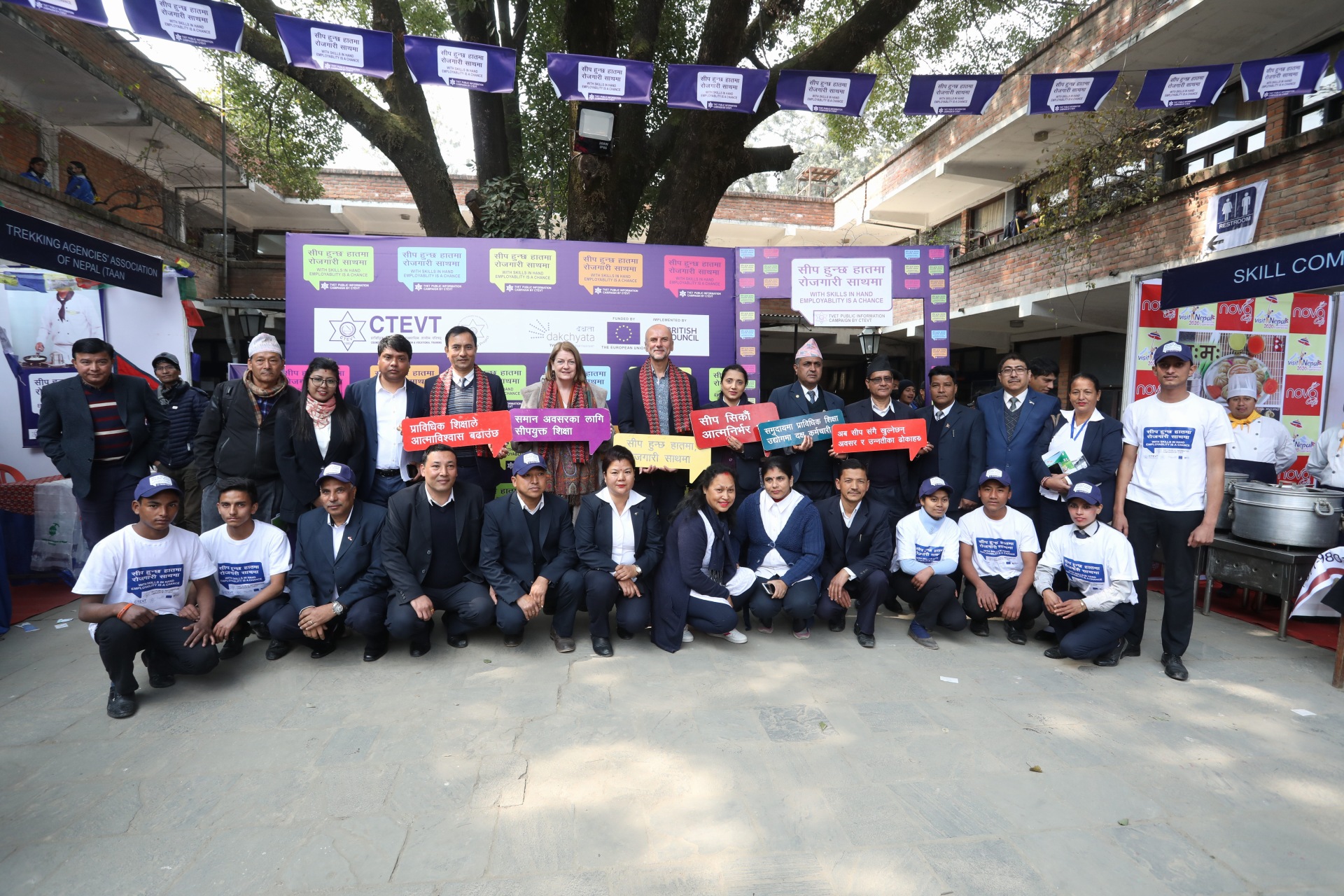 At the TVET Mela, employers from Agriculture, Construction and Tourism industry exhibited and demonstrated skills requirement as well as willingness to hire skilled TVET graduates. Visitors for exhibitors' stalls seeking information were potential students, looking to enhance their skills for gainful employment. 
Skills competition such as momo making, pipe fitting, electrical and other demonstration by electrical and mechanical students of BSET made the TVET mela vibrant, engaging and a success to demonstrate the value of skills and its opportunities. Winners of skills competitions at various booths were awarded with goody bags that included campaign merchandise for their enthusiasm and participation.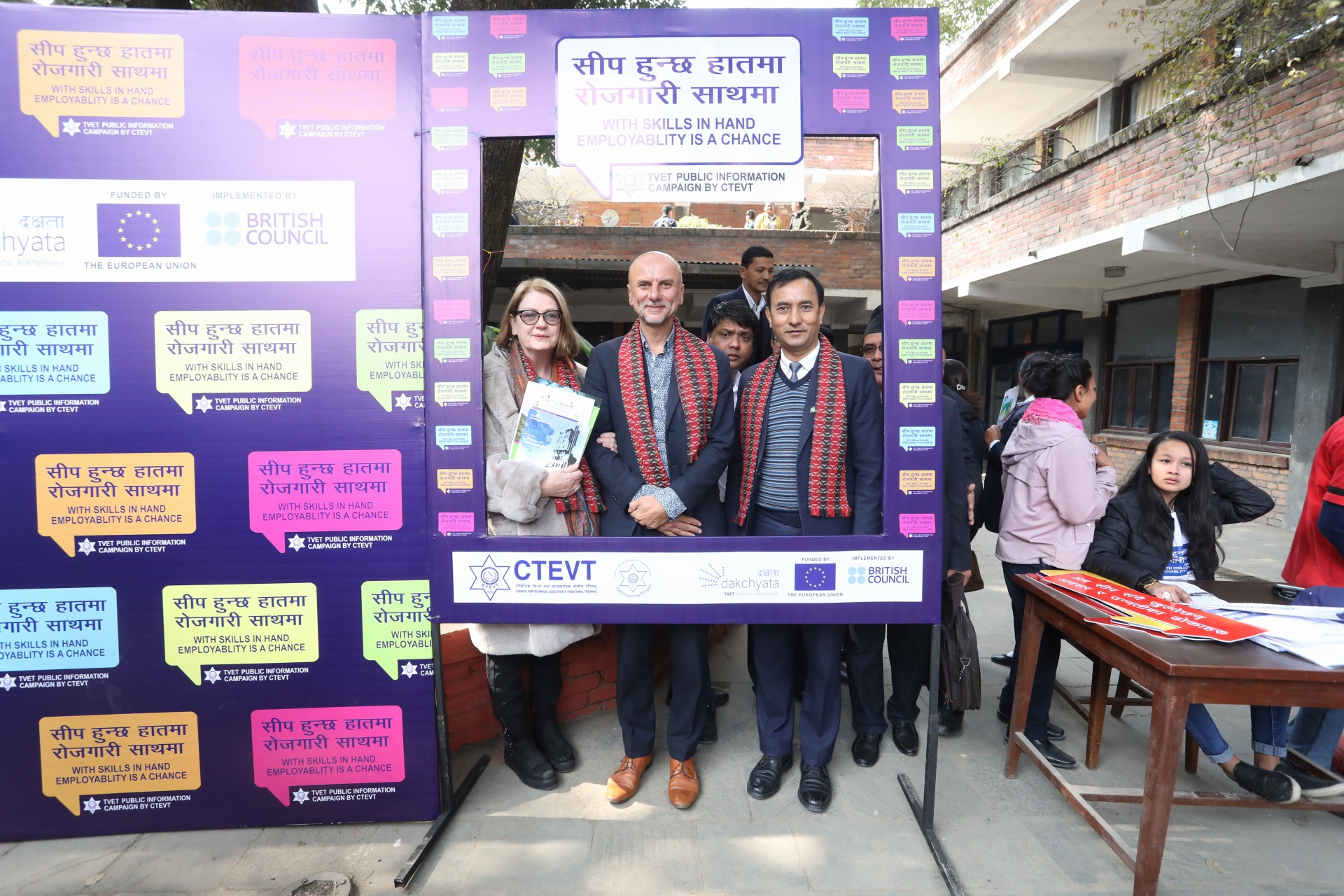 Member Secretary, Dr. Pushpa Raman Wagle thanked all stakeholders - European Union, British Council and Industry partners on the collaborative effort in launching the campaign and urged to work together in improving outreach on the value of skills and its strong link to employments. Member Secretary also stated that the campaign will play a crucial role in bridging the gap between employers, employees and trainees.
H.E, Ambassador Veronica Cody, expressed confidence that the campaign will support in changing social attitude towards this sector and motivate young people to choose it as a potential career path. She was very engaged and involved and observed all the exhibitor's stalls and skills demonstration booths by students and interacted a lot with them. 
The event was covered by the EU and updated on the its social media pages – Facebook, Twitter and website including Ambassador's personal social media pages. The event also covered prominent space in the Brussels website EU.  
Positive feedbacks and acknowledgement were received from all stakeholders who termed the event as successful – major success factors were: complete ownership of the campaign by CTEVT, all delegates welcomed the usefulness of the campaign and asserted it as much needed, cooperation from Balaju School of Engineering and Technology in mobilising students and volunteers. 
"As an engineering aspirant, I found the information from the job providers and the counsellors was encouraging. The Engineering models on display were well explained by the faculty and students at Balaju School of Engineering and Technology (BSET). I feel lucky to have attended this event and think more events like this should be done in the future so that more youth can be benefitted." – Male, 17 yrs old
"Seeing the employers at an educational event was a pleasant surprise. I liked how the students had an opportunity to see the employment of TVET education system.  We need more events like this one" – Male, 37 yrs old